I've been reading Neil Young's new autobiography "Waging Heavy Peace". I love Neil. Totally. He's such a quirky old dude! The best thing about Neil, aside from his amazing songwriting skills and music that touches my soul? The way he speaks about his wife and kids. He LOVES his family. The respect and love in the way he writes about his wife Pegi warms my heart. The complete and utter devotion to his seriously challenged son Ben is inspiring, and brings tears to my eyes. The pride in his oldest son Zeke, also special needs--fantastic. The way he writes of his daughter Amber is the way fathers of all daughters should write about their little girl. Some day when we're old(er), I hope my hubs speaks of me the same way. I highly recommend his book.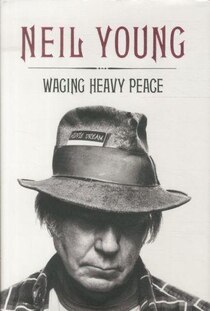 I love his book. I love his music. I love the way he writes of his family. If you do read the book, be forewarned--it's a little random, just like Neil. It's not linear or necessarily sequential. All from the boy from Omemmee, Ontario. I'd love to meet him and talk with him. I think it would be a very interesting conversation!
http://www.youtube.com/watch?feature=player_detailpage&v=1woTG_DaTuw
Check out this song from his new album, "Psychedelic Pill". I too was born in Ontario.